Rowenna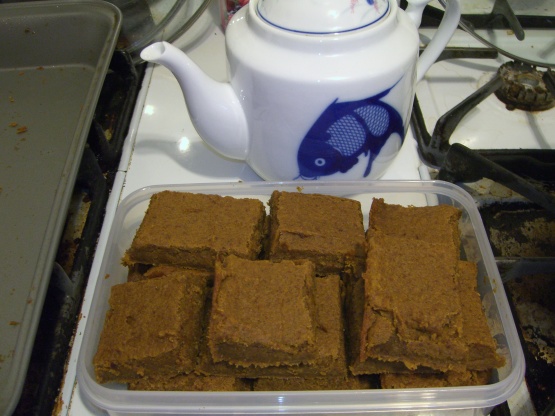 I found a recipe in a Raley's magazine, but found it wasn't all I expected. After some massive modification, voici! My first original recipe! My oven is unusually slow, so I recommend keeping a close watch on the time; it shouldn't be too moist, and it shouldn't be cookie-like either. Add chocolate chips for an extra kick!
Preheat oven to 350 degrees Fahrenheit.
Spray a 9-by-13-inch baking pan with nonstick cooking spray.
Cream together butter, brown sugar and Splenda.
Beat in pumpkin, maple flavor, vanilla extract, cinnamon, nutmeg, pumpkin pie spice, allspice, and clove.
Stir in remaining ingredients and pour into prepared pan. Bake for 30 minutes or until toothpick inserted into the center comes out clean.
Cool completely. Cut into twelve bars. Enjoy!