Pumpkin Sourdough Waffles
AKborn48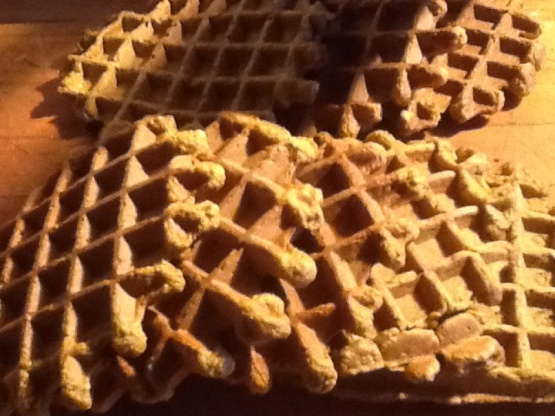 YOU'VE GOT A GREAT WAFFLE RECIPE HERE! Made these pretty much as indicated! Used pumpkin puree & toasted pecans for a satisfying breakfast! Even pumped up the main taste by using pumpkin butter, then topped it all with some light corn syrup! VERY, VERY NICE! [Tagged, made & reviewed for one of my partners in the Aus/NZ Recipe Swap #22]
Place the oats in a blender container and process to break up flakes.
In a medium bowl combine the processed oats, flour, spice blend, salt, baking soda and brown sugar.
Add the pumpkin, egg and butter stirring to combine; add the starter and the milk as needed to reach proper consistency for a thick waffle batter; stir in nuts.
Bake on preheated waffle iron as per manufacturers suggestion.