Pumpkin Sour Cream Pancakes
Tau8053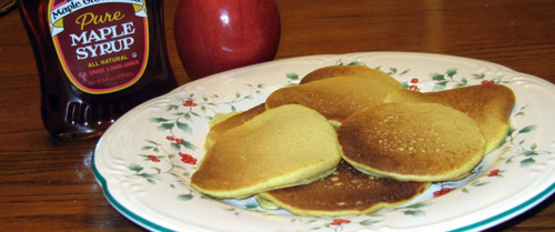 Please don't let this one review you. I came across this recipe in a magazine. It originally came from a B & B in Boston. If you are a pancake lover, this one is awesome! Why go out for breakfast when you can make such fabulous pancakes at home. I found it very easy and having great results!!

This is a new family favorite for breakfast! My kids keep begging me to make them. They are super flavorful and moist. We make sure to cook them on low heat, so that the insides have a chance to cook all the way through. Doing that, we haven't had any of the problems mentioned by some of the other reviewers.
Mix flour, baking powder, salt, and sugar together in medium-size bowl.
Combine remaining ingredients in small bowl.
Slowly whisk liquids into dry ingredients.
Spray a grill pan with cooking oil.
Ladle approximately 1/3 cup of batter per pancake onto pan and cook over medium heat until bubbles appear in top.
Turn over and cook for a few minutes on the other side.
Do not overcook (they should be moist).
Serve with butter and syrup.