Hanka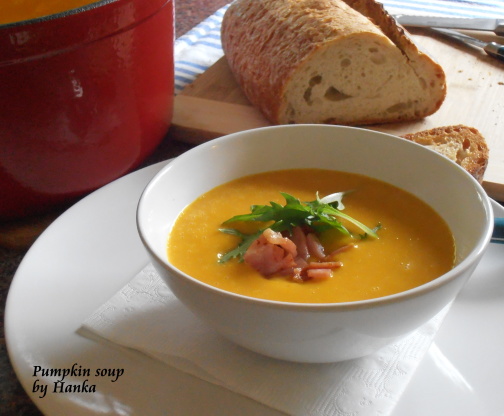 Smooth texture, sweetness from pumpkin and bit of saltiness from crispy bacon that's what it taste like my super simple pumpkin soup.

This soup is delicious. I'd been looking for a great pumpkin soup recipe and this is the one. The only thing I did differently was add a pinch of pumpkin pie spice. I used fresh chives to garnish, and it was so, so good! Thank you, Hanka for your great recipe.
In large heavy saucepan heat olive oil. Add chopped onion, garlic and saute for few minutes. Add pumpkin and chicken stock and bring to the boil.
Let it simmer on low heat, covered until tender about 35-45 minute.
Blend the soup with stick mixer until smooth. Stir in light cream. Season with salt and pepper if need it.
Serve soup with pan fried bacon pieces, fresh herbs and crusty bread.