Pumpkin Seed Oil Dressing
Derf2440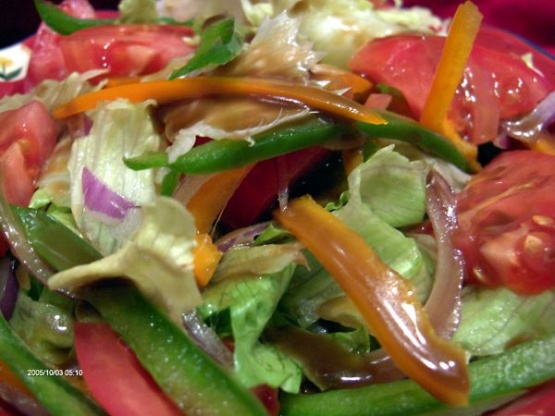 The use of pumpkin seed oil gives this salad dressing a unique nutty flavour. A mild honey (e.g. glover honey) in addition with the aceto balsamico will give the dressing a fruity sweetness. Dijon mustard will top it off with slight pepperiness. This dressing works fine with any kind of lettuce.
This is a keeper! It's quick, it's easy, and it's way better than anything on the store shelves!! This is in regular rotation on my menu plans
2 1⁄2 tablespoons olive oil

1

tablespoon aceto balsamico, preferrably blanco
1⁄2 tablespoon Dijon mustard
1⁄2 tablespoon honey

1

teaspoon pumpkin seed oil

1

pinch salt
Put all ingredients in a small bowl.
Whisk together with a fork or small whisker until emulgated.
Dressing is enough for about 16-20 cups lettuce. Use some toasted pumpkin seeds for topping.
NOTE: Instead of pumpkin seed oil you can try other specialty oils like toasted sesame seed oil or walnut oil. But you should start then with less than 1 teaspoon to evaluate the flavour.