-Sylvie-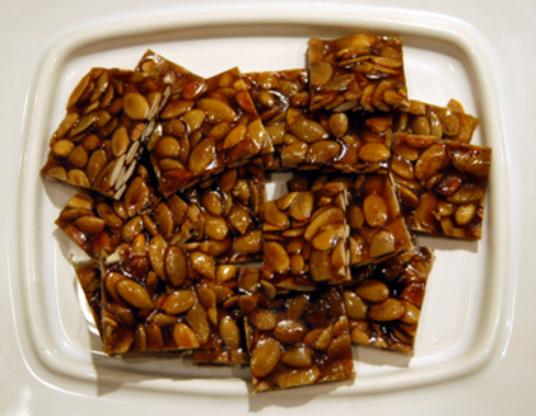 Recipe from Martha Stewart. These sound great for Halloween!

Well, you have to like pumpkin seeds, but if you do, this is addictive stuff! Also it's too, too, easy to make. I don't have a candy thermometer so I just followed the times given. For the second interval (3-4 minutes) I could smell the honey just starting to caramelize at the three minute mark so I removed it from the stove then. I did not follow all the fancy presentation instructions. I just waited until it was stiff enough to hold together but still soft enough to scoop, and dropped it by spoonfuls, with the help of a small silicon spatula, onto lightly oiled parchment paper. I got 21 nice sized candies. This is basically a 'peanut brittle' type candy, with the seeds instead of peanuts. The seeds have a rich musky flavour that balances the toffee coating very nicely. Now all I have to do is keep myself from snarfing them all down at once.
1

cup hulled pumpkin seeds (pepitas)
1⁄4 cup sugar
2⁄3 cup good-quality honey

3

tablespoons cold unsalted butter, plus 2 tablespoons melted for brushing
Heat a large skillet over medium-high heat.
Add pepitas; toast, stirring constantly until seeds pop and become slightly golden, about 3 minutes.
Transfer to a bowl to cool.
Place sugar and honey in a small saucepan.
Bring to a boil over medium-high heat, stirring to dissolve sugar, about 3 minutes.
Add pepitas, and continue cooking until temperature registers 285° on a candy thermometer, 3 to 4 minutes.
Remove from heat, and stir in cold butter.
Let the mixture cool to 240°, about 4 minutes.
Meanwhile, brush the inside of fifteen 1-inch-diameter black paper cups with melted butter, reserving 1 tablespoon.
Spoon a scant tablespoon of the honey mixture into each cup.
Brush a clean work surface with the remaining butter, and spoon the remaining honey mixture on it so mixture will continue to cool.
When remaining candy is stiff and cool enough to handle, about 6 minutes, cut into 3/4-inch pieces with a greased knife.
Wrap in cellophane.