Pumpkin Scones (Vegan, Egg Free, Lactose Free, Still Delicious)
KristinV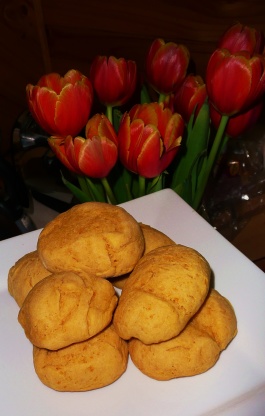 These scones are quite easy to make but just a hint from someone who made this mistake... Make sure you put them on the TOP shelf of the oven to prevent burnt bottoms :)

Most excellent!!! I didn't have any pumpkin but used a can of mashed sweet potato that I had on hand. It was GREAT!! My nephew even loved them and he is incredibly picky about what he eats. Also, another trick to prevent burnt bottoms is to put a cookie sheet on the lower level of the oven.
Preheat oven to 220°C.
Beat margarine and beat until soft then add sugar and egg replacer. Cream all together until light and fluffy.
Sift flour, salt, and cinnamon together.
Add pumpkin and milk alternately with the sifted ingredients into the creamed mixture until just combined. don not over mix.
Turn scone dough onto a lightly floured surface and knead lightly.
Roll or dress scone dough out, cut into desired shapes with a scone cutter.
Place scone shapes close together on a lightly greased and flour dusted baking tray. Brush tops with a little milk.
Bake in the oven for 10-15 minutes or until cooked (watch those bottoms) and golden.
Remove from tray and cool slightly on a wire rack. Best served warm.