graffd02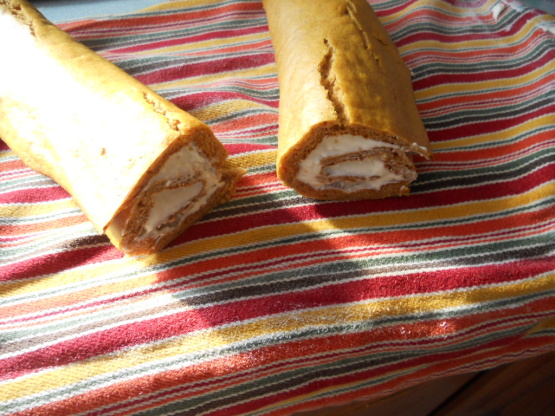 I do not know where this recipe actually originated, but my sister gave it to me a few years ago. I have made them since and given them away as gifts. Of course, I've kept them and ate them myself, too, after adjusting them to a Sugar-Free Recipe - Yummie!!

WOW! If I only rated on taste, this would get a 5 star. But, it was harder than I expected to make. I followed directions EXACTLY but my cake definitely didn't "roll" at all. It started to fall apart so I stopped rolling immediately and did something different. I cut it in 5 slices and layered the slices with the cream cheese mixture between each slice. It still resembled a "loaf" just not rolled. It would have been more helpful to have more specific directions (was cake mixture supposed to be hand mixed or electric mixer?) The powdered sugar and a lot of the pecans fell off when I turned it out onto the towel (boy was my kitchen a mess!) To my surprise (& excitement) the flavor of this Pumpkin Roll was awesome.
Preheat Oven to 350°F.
Grease Cookie Sheet and place wax paper over it. (I also spray Wax Paper with cooking spray).
Pour batter over wax paper and sprinkle with chopped nuts.
Bake 15 - 20 minutes.
Sprinkle with Powdered Sugar.
Turn Cake out on clean Dish Towel & peel off wax paper.
Roll Lengthwise and place in freezer for 20 minutes.
While cake is in freezer, Mix filling by adding all ingredients and mixing until smooth.
Take cake out of freezer and unroll.
Spread filling all over cake.
Roll back without dish towel.
Wrap in Foil and freeze.
Remove 15 minutes before serving.