Pumpkin Raisin Walnut Quick Bread
Brenda.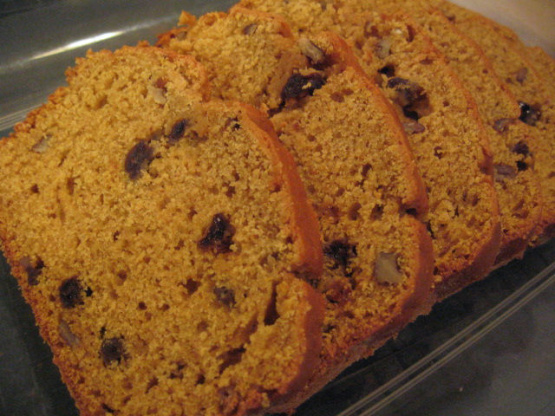 This recipe was in the local paper recently. I love quick breads because they're so...so...so...quick!

Top Review by kkopec
When I was mixing the batter, I thought it was way too thick...but I persevered. I think this recipe left out some moisture. Milk, perhaps. I plan to serve it for a brunch bread and make Texas roadhouse butter to serve with it. Something tells me I will need it. Found this in the Chicago Tribune and it sounded so good.
Preheat oven to 350 degrees.
Mix together: flour, sugar, baking powder, cinnamon, nutmeg, baking soda, ginger, cloves and salt. Stir until combined.
Stir in walnuts and raisins. Set aside.
Beat the eggs in a medium bowl.
Stir in the pumpkin, brown sugar, vanilla and melted butter.
Combine both mixtures together until the dry ingredients are moistened.
Pour batter into greased and floured loaf pan (8 1/2" x 4 1/2").
Bake until loaf is browned and wooden pick inserted in the center comes out clean. approximately 50 - 55 minutes.
Cool in pan approximately 10 minute Cool completely before serving.