scancan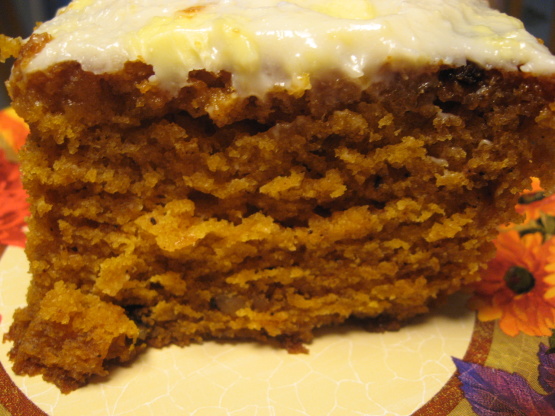 I havent tried these yet. This recipe seems to be simple enough. I got this recipe out of a magazine years ago.I think it is a pillsbury recipe.

Very Good! I replaced half of the oil with applesauce and it came out moist and delicious. Thank you for posting such a versatile and easy recipe.
Preheat oven to 350 degrees.
Set aside nuts and raisins, then combine the rest of the ingredients in a large mixing bowl.
Beat at a low speed until mixture is moist, then beat for an additional 2 minutes at medium speed.
Stir in nuts and raisins with a spoon.
Pour mixture into a greased 15x10x1 baking pan.
Bake for 25-30 minutes or until done.
Let cool.
To make frosting combine all the frosting ingredients into a bowl and mix until well blended and smooth.
Frost bars when they have completely cooled.
Once bars have been frosted keep refridgerated.