Julesong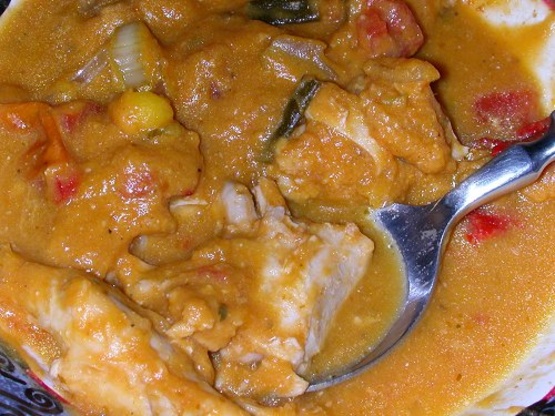 Great comfort food. I love to dish up a mug of this stew and dip some really good wheat or pumpernickel bread into the broth during cold winter nights (yes, I do get cold in Arizona).

I'd give this eight stars if I could! I wasn't sure about the pumpkin, because sometimes the taste is overpowering, but this ROCKED! The pumpkin lent a richness, and a glorious color, but otherwise we couldn't taste it. I made it last night, and I'm making it again today before the the rest of the cilantro goes bad.....gonna freeze it. I used yogurt instead of sour cream, but otherwise followed it to a T. YUM YUM YUM!
HEAT oil in a large saucepan over medium-high heat.
Add chicken, onion and carrot; cook for 3 to 4 minutes or until chicken is no longer pink.
Add celery and bell pepper; cook for 3 to 4 minutes or until vegetables are crisp-tender.
STIR in pumpkin, broth, hominy, sour cream, cilantro, salt, pepper, oregano, cumin, and nutmeg.
Reduce heat to low; cook, stirring occasionally, for 10 to 15 minutes or until flavors are blended.