GaylaJ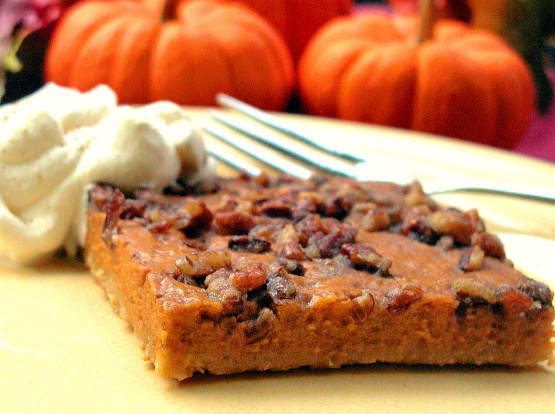 This dessert is a fall favorite at our house...just like having a piece of pumpkin pie, only better!

Hazeleyes, our family loved this too, and I like the fact that it is so easy and makes a large pan. Thanks for sharing another of your delicious recipes!
Mix together the crust ingredients and press in a lightly greased 9"x13"pan. Bake for 15 minutes in 350 degree oven.
In a large bowl, combine the filling ingredients, and beat well with a mixer.
Pour onto hot crust and bake for 20 more minutes.
Stir together the topping ingredients, and sprinkle on top of filling.
Bake for 20 more minutes.
Let cool, and cut into squares. Serve with whipped cream.