David04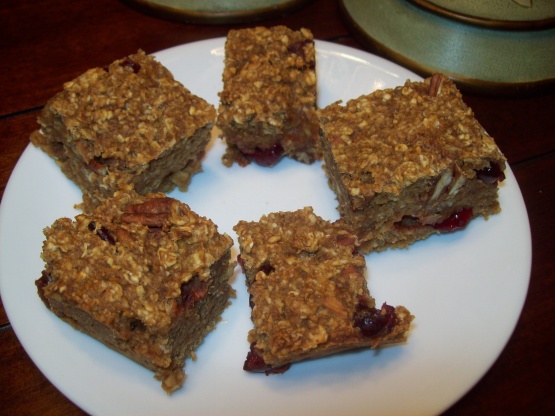 Pumpkin Pie flavored Granola Bars

Top Review by karen
The flavor is really good, but my oatmeal mixture didn't hold together very well and crumbled instead of turning out to be bars. I was probably a little short on my honey, maybe a tablespoon or 2, since I realized after I started that I didn't have a spare jar of honey. That was probably the difference since I followed the recipe exactly other than creating my own pumpkin pie spice, so make sure you use the full honey amount. This actually reminded me of a baked oatmeal breakfast recipe that I've made, so I've been eating it crumbled and warmed up with a little milk as breakfast instead of as dessert.
Preheat oven to 350 degrees F.
Whisk together the oats, pumpkin pie spice, cinnamon and salt in a large mixing bowl.
In a separate bowl, whisk together the honey, brown sugar, pumpkin, applesauce and vanilla extract until smooth.
Pour the wet mixture over the oats and mix with a wooden spoon.
Stir in the cranberries and pecans.
Pour and evenly press the mixture into a coated 8 x 8 pan.
Bake for 35 to 40 minutes or until golden brown.
Allow to cool, then cut into bars and serve. Store at room temperature in an airtight container.