Shelia T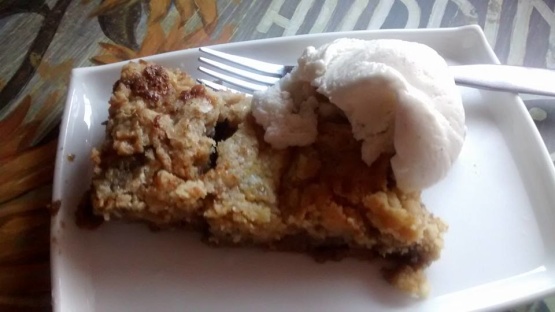 What do you do when you need a holiday dessert and you need it fast? You whip up a moist delicious cake! This is wounderful and you're guests are sure to love this. You can serve ala mode with a dallop of whipped cream.
My youngest son loves pumpkin pie. I usually make a couple each Thanksgiving. I'm not a piecrust master and didn't have any packaged ones. So I decided to do this instead. It was a very big hit with everyone. Just a little too sweet for my taste, I'll reduce the sugar next time and maybe experiment with some toasted nuts sprinkled over servings for a little more texture. Paired with a scoop of vanilla ice cream, this was The Bomb!
Preheat Oven to 350'.
Mix all except cake mix and butter until blended.
Transfer to an ungreased 9x13 pan, and sprinkle dry cake mix over entire mixture.
Then pour melted butter over cake mix.
Bake at 350' for 45 minutes to 1 hour but no longer.
Cool before serving.