lets.eat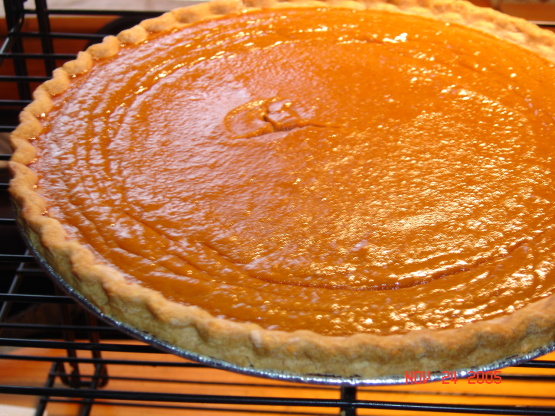 I got this yummy Pumpkin Pie recipe from Better Homes and Gardens Baking Book. It is so yummy I had to share it!

I followed the recipe as written except I put in 1/2 tsp extra of cinnamon and replaced the ginger and nutmeg with pumpkin pie mix since I have had it for a while and don't want it to go to waste. The pie was easy to make, tasted great, and the consistency was perfect. I might try cutting the sugar down a bit next time. It wasn't too sweet, but I think it might be fine with less and I try to do without extra sugar whenever I can. Thank you for the great recipe.
If using a ready made pie crust that is fine but if not you need to make the pie crust first.
For filling, in a mixing bowl combine pumpkin, sugar, cinnamon, ginger, and nutmeg.
Add eggs.
Beat lightly with a rotary beater or fork just until combined.
Gradually stir in evaporated milk and milk; mix well.
Place the pastry-lined pie plate on the oven rack.
Carefully pour filling into pastry shell.
To prevent overbrowning, cover edge of the pie with foil.
Bake in a 375 degree oven for 50 minutes.