awalde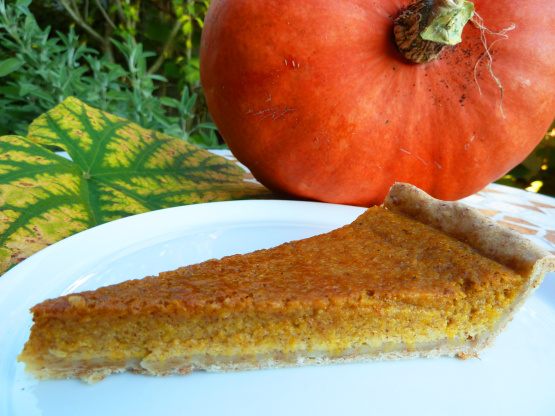 My mother found this recipe a few years ago at pumpkinnook.com. I have been using this recipe for three years already (this will be my fourth year using it), and it hasn't failed me yet. You can always use canned pumpkin if you don't have fresh pumpkin.

Top Review by awalde
WOW! This pie is a dream! It's the first pumpking pie for me and I found it delicious.
I supposed that the filling would not firm enogh, but there was no problem at all. It was juicy and still firm!
The spices combo including the "all spices" is fantastic and I did not change it.
Thanks a lot for posting this recipe.


I prepared the dough for the crust with:
3/4 all pourpose flour
3/4 whole wheat flour
1/4 cup oil
1/3 cup water
1/2 teaspoon salt
Preheat oven to 425°F.
Mix pumpkin, sugars, orange peel, and spices in large bowl.
Add evaporated milk and eggs. Mix all ingredients well.
Bake at 425°F for fifteen minutes. Reduce heat to 350°F degrees and bake for 45 minutes more.
Variation: substitute allspice for nutmeg.
Add 2 tablespoons of bourbon for bourbon pumpkin pie.