Rita1652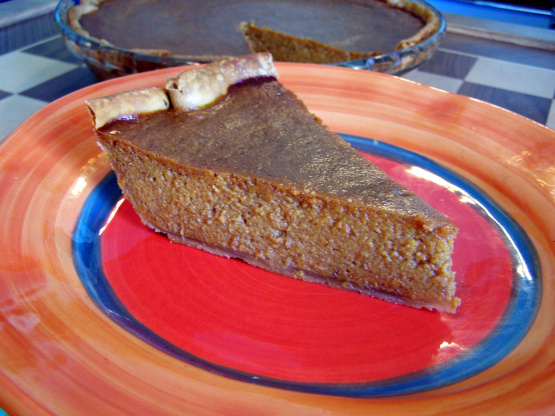 One of my family's favorite pumpkin pies! I have even made this pie with chopped toasted walnuts added but that is optional. Measure exactly 1-3/4 cups sweetened condensed milk, no more or no less!

this recipe turned out really well I used butternut pumpkin lightly baked till soft and mashed that and I also used a 14oz can of sweetened condensed milk previously boiled in the unopened can ( becomes caramelized )First Austrlian attempt at pumpkin pie which we had with Xmas dinner of Turkey and boiling bacon
Fir the prepared pie pastry into a glass pie plate; fold the edges under then flute ad desired.
In a large bowl combine all remaining ingredients, then beat using an electric mixer at medium speed for about 2-3 minutes.
Transfer to prepared pie shell.
Place the pie plate on a baking sheet.
Bake at 425 degrees for 12 minutes; reduce heat to 350, then continue to bake for 50 minutes or until a knife inserted in the center comes out clean.
Cool on a wire rack and serve at room temperature, or refrigerate and bring to room temperature before serving.
Dollup each slice with whipped cream.