Nimz1466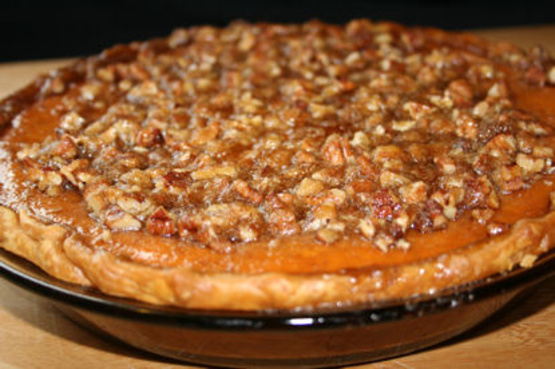 I haven't made this recipe yet - but thought it sounded good as it combines two of my favorite Thanksgiving pies into one pie. Recipe source: shopper's newsletter

The flavor and texture were 5 star all the way. Just wonderful. Will have to work on the topping a bit. I followed the instructions to a T and the result was all the butter overflowed. Thank goodness I had the pie plate on a drip pan. I may decrease the butter and my increase the size of the pie plate to 10 inch and see if that works better for me. Thanks ellie for a wonderful pie.
Preheat oven to 400 degrees F.
In a bowl beat together eggs and pumpkin.
Stir in next 6 ingredients (sugar - vanilla).
Stir in milk.
Pour mixture into pie shell.
Bake for 50-60 minutes or until knife inserted in center comes out clean. Cool completely.
To make topping, in a small bowl combine topping ingredients (butter - pecans). Drop topping by teaspoons on top of pie.
Broil pie five inches from heat for 3 minutes or until mixture begins to bubble.