loof751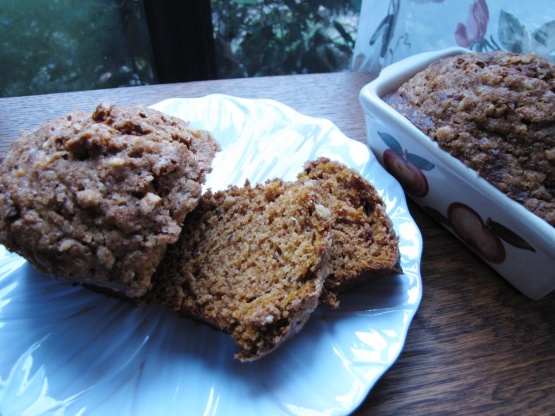 From the Crisco website. Posting for safe keeping. Times are approximate

This is really good and really easy. I mixed all the dry ingredients together and then mixed all the wet in a measuring cup and stirred them into the dry. I did add about one teaspoon of vanilla and used water instead of milk. Super easy. Baked about 5 minutes longer than it called for and it was almost overdone. The nuts were very brown on top. The topping of sugar, oil and pecans is great and one of DS' friends said he loved the contrast of the soft spicy inside to the nutty crunchy top. Next time I think I will make this recipe as bars in a 9 X 13 pan with a double batch of the topping sprinkled on top to get more of the contrast in each bite. I think I will probably only cook that for about 40-45 minutes. Maybe even less. Thanks so much for sharing this delightful recipe!
55Heat oven to 350°F Coat 9 x 5-inch loaf pan lightly with flour no-stick cooking spray.
Stir olive oil and sugar together with spoon.
Stir in eggs until blended.
Add pumpkin and milk.
In a bowl combine flour, baking soda, salt, cinnamon and ginger.
Add to pumpkin mixture, stirring until well combined.
Stir in 1/2 cup pecans.
Pour batter into prepared pan.
Combine 1/2 cup pecans, brown sugar and olive oil until mixed and crumbly. Sprinkle over batter.
Bake 55 to 60 minutes or until toothpick inserted in center comes out clean. Cool 10 minutes. Remove from pan.