Jill04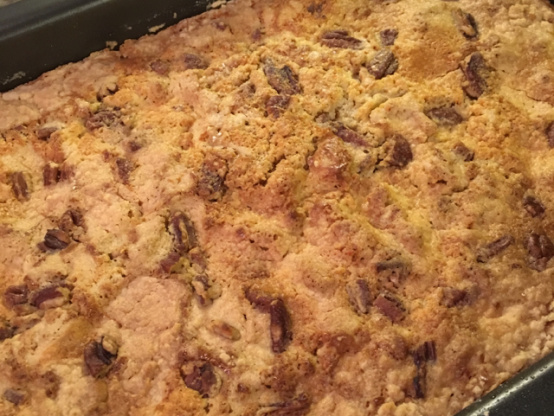 It's the crunchy layer of pecans and the toasty flavor of pumpkin pie spice that make this easy, creamy dessert so satisfying. Serve with a dollop of whipped cream. This dessert can be made ahead, cooled completely and covered, Refrigerate overnight. Let stand for 30 minutes before serving.

We used this for my mother-in-laws 94th birthday party. It was loved by all. Made for Name that Ingredient in honor of Pammyowl.
Preheat oven to 350°F Mix pumpkin, milk, eggs, sugars, 5 tsp, of the pumpkin pie spice, vanilla and salt in large bowl until well blended. Pour into 13x9-inch baking pan which has been sprayed with a nonstick cooking spray.
Mix cake mix and remaining 1 tsp, pumpkin pie spice in medium bowl with wire whisk, sprinkle dry cake mix evenly over pumpkin mixture. Sprinkle with pecans. Drizzle evenly with melted butter.
Bake 50 minutes or until golden brown. Serve warm or at room temperature. Serve with whipped cream. Store leftover dessert in refrigerator. To serve, cut into squares with a sharp knife.