Pumpkin Pecan Cream Cheese Muffins
diner524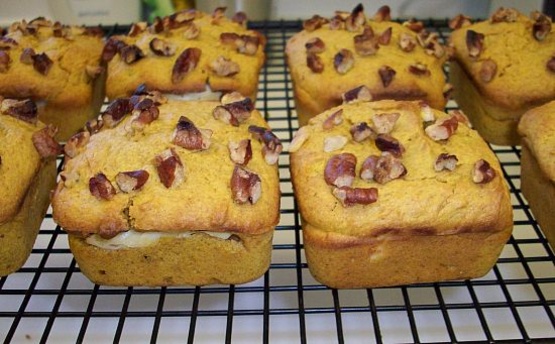 These muffins are moist and flavorful... especially good right out of the oven. (I just finished eating one. :)) This is similar to a few other recipes on Zaar, but this one happens to be my favorite and I was curious about the nutritional info, so I decided to post anyway. The recipe is easily halved, but I usually make the full two dozen... the first batch without the nuts and the second batch with. They are great for parties or for giving to your neighbors to say Happy Fall!!
I made these the other morning for breakfast muffins and just loved the flavor of the toasted pecans on top and the cream cheese in the center. After reading the previous review, I decreased the amount of baking powder to 2 tsps, for half of the recipe and then added about 1/4 cup milk as batter was so thick, then proceeded as written. I checked at 15 mins of baking time, as my oven runs hotter, but they weren't done, so continued baking until 20 mins. This makes a very dense and not very sweet/sugary type of muffin. I love the concept of this recipe, as it is a great way to have breakfast on the run in the mornings, but would tweak it a bit to make it less dense and more of the spices for our personal tastes. Thanks Al Al for a great recipe. Made for Spring PAC 2008.
Preheat oven to 400 degrees.
Mix dry ingredients in large bowl (you can mix the pecans in here if you wish, or fold them in at the end).
Mix wet ingredients (except for cream cheese) in a smaller bowl.
Add wet ingredients to dry and stir gently until just mixed.
Coat your muffin pan with non-stick cooking spray.
Using half the batter, divide it among the 12 cups (they will be fairly full).
Cut your cube of cream cheese into 24 pieces and press one piece into each muffin cup. (If you want, you can roll it in your hands to make it a cylinder or ball rather than a square.).
Top each with a pecan half (or if you have pecan pieces, you can arrange them on top in a cute pattern).
Bake for 15-20 minutes.
Remove to wire rack and bake the next batch.
Try not to eat them all yourself! :).