Karen..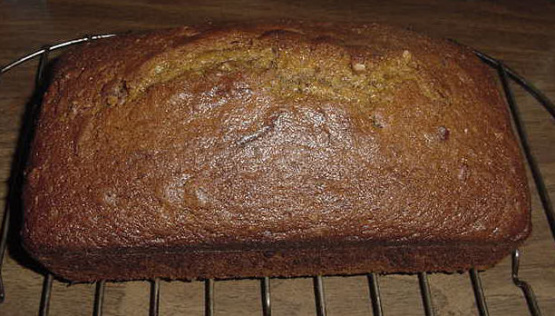 This is from Taste of Home... I love pumpkin bread, it's so good!

PICK YOUR CHEF November 2004: Like Peggy Lynn, I was on a quest for the perfect pumpkin bread! This is a tasty bread, but not quite what I was expecting. I like my pumpkin bread a little spicier and a little nuttier. It also came out lighter than most breads, almost like a cake. Followed the recipe to a "T", so I guess it's just a matter of taste! Would definitely appeal to people who enjoy a lighter bread. Thanks for posting.
In a large mixing bowl, combine the first 5 ingredients.
Combine the flour, baking soda, salt, spices and baking powder; gradually add to pumpkin mixture and mix well.
Fold in pecans.
Pour into a greased 9 x 5 x 3 inch loaf pan.
Bake at 350 for 70-80 minutes or until a toothpick inserted near the center comes out clean.
Cool for 10 minutes before removing from loaf pan to a wire rack to cool.