Pumpkin Pancakes (Gluten Free)
wyojess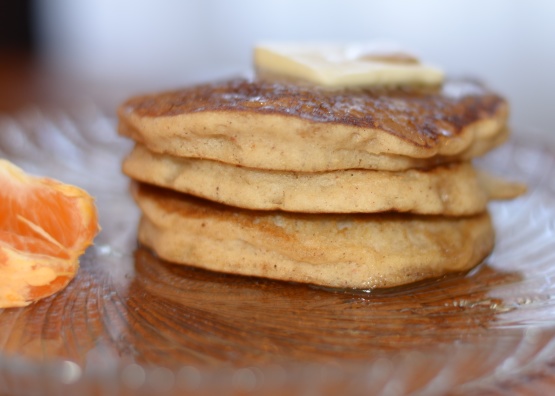 Delicious pumpkin pancakes are fantastic on a crisp fall morning. A friend suggested topping with cream cheese frosting! Yum! My husband has Celiac and loves it when I can make a recipe that doesn't taste like it's gluten free. This one is really good!

Adding purée to a gf recipe can be a dicey proposition. The quantities in this recipe are spot on. I used Pillsbury gf flour mix, with no substitutions and it worked perfectly. Even my non-gf eating family members raved!
Whisk flours, starches, sugar, baking powder, spices and salt in a bowl.
In a separate bowl whisk together milk, pumpkin, melted butter, and egg.
Fold mixture into dry ingredients.
Spray or grease a skillet and heat over medium heat: ladle pancake batter into about a 2" circle (it will spread a bit).
Cook pancakes until browned on both sides. Serve with butter and syrup.
Makes about 12 3" pancakes.
***You can use 1 1/4 cups of America's Test Kitchen GF Flour mix in lieu of the flour and starches listed out separately!
http://www.cooksillustrated.com/recipes/7854-americas-test-kitchen-gluten-free-flour-blend#.