Boomette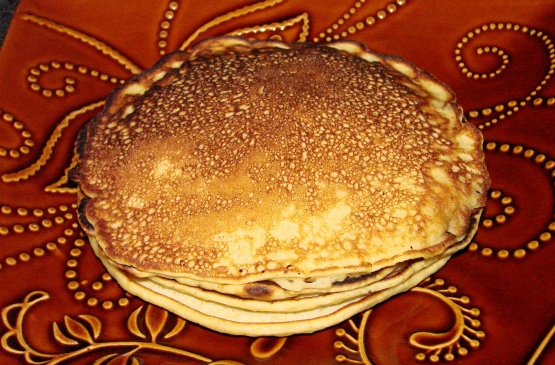 Great with powdered sugar, peach jam, maple syrup, as a base for creamed turkey, or rolled up with fried ham or Black Forest ham. The thin batter makes fantastic crepes and blintzes. They freeze well, too. I clipped the recipe from the New York Times in the mid-1980s, and it was originally titled "Marina Polvay's Pumpkin Pancakes"
I made half the recipe. In the batter, I used half and half cream, canola oil instead of melted butter, no salt, fresh pumpkin puree I made, and I omitted the nutmeg and used more cinnamon. I mixed them with a whisk. They were not thin (which for me is better). We ate them wtih maple syrup. Thanks Fluffernutter :) Made for Holiday tag game
Combine all ingredients except vegetable oil in a blender and process until smooth. Let stand for at least 15 minutes.
Heat a nonstick griddle, crepe pan or iron skillet with oil or butter (or nonstick cooking spray) and meat to medium. Spoon 2 to 4 tablespoons batter for each cake -- the batter is thinner than traditional pancake batter and will spread. Cook until bubbles have formed and burst on the top of the cakes, and center seems set, about 3 minutes. Turn and cook the other side. Repeat until all batter is used.
Serve as dessert, as a base for meats, or with butter and syrup.