This was on one of those recipe cards that you get in the mail from time to time. We love the taste of the pumpkin and bran - even DD and she isn't a bran eater!
Directions
Combine first six ingredients in a large bowl; stir well.
Make a well in center of mixture.
Combine pumpkin and next three ingredients; stir well.
Add to dry ingredients, stirring just until moistened.
Spoon into muffin pans coated with cooking spray, filling ¾ full.
Bake at 425 degrees for 20 minutes.
Remove from pans immediately; serve warm or at room temperature.
Banana Oat Bran Muffins: Substitute ¾ cup mashed ripe banana for pumpkin.
Apple-Oat Bran Muffins: Substitute 1/2 cup minced apple for pumpkin.
Substitute apple pie spice for pumpkin pie spice.
Add 1 Tsp ground cinnamon to dry ingredients.
Most Helpful
These were good. I did forget the all purpose flour, because I forgot to write it down (my printer don't work). However I still enjoyed them very much! VERY MUCH! I added 1/4 tsp. Cinnamon, and 1/2 tsp vanilla, as well as some raisins and chopped pecans. They were very nice. I am going to save one for my breakfast tomorrow.
Very moist and tasty muffins. For this recipe I added whole eggs and used wheat flour. I also sprinkled pumpkin seeds on top of each muffin. Then using the back of a spoon I pressed the pumpkin seeds down into the batter so they would not roll off while baking. It made for a pretty muffin (see above). Next time I would like to add a bit more Pumpkin Pie Spice or perhaps cinnamon or ginger to kick the flavor up a bit. These would also be great with cranberries. Thank you.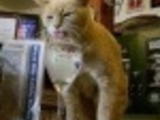 Yummy, nutritious (beta-carotene from the pumpkin and fibre from the oat bran), and low fat... what more could I ask for in a muffin? These muffins were good warm as well as cold in my lunch the next day. The only thing I'd change would be to add some raisins.