kindcook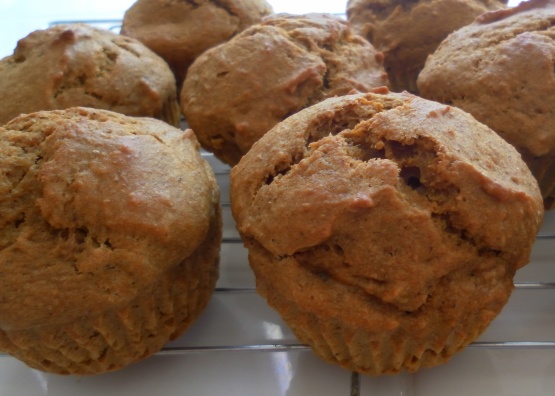 I really like the fact that this recipe uses a whole can of pumpkin, instead of 1 cup or so. It also uses half whole-wheat flour/half white flour and half oil/ half applesauce, so you feel like you're eating somewhat healthy. If you prefer a sweeter muffin, increase the sugar to taste. Makes 18 muffins.
This muffin recipe was an overall good start, but it needed tweaking. I added 1 cup of applesauce instead of 1/2 cup, and doubled the baking powder and baking soda to make the muffins more moist and less dense. I also added 1 cup of dark brown sugar instead of the white sugar, 2 tablespoons of honey, and 2 tablespoons of molasses. Another teaspoon or two of cinnamon, a teaspoon of ginger, and a 4th egg would also have been helpful to add needed moisture and flavor. I will add them next time, along with 1 cup of chopped apple pieces or bananas (in addition to the walnuts).
Beat eggs in a large bowl.
Add pumpkin, oil, applesauce and sugar, and mix well.
In a separate bowl, mix the dry ingredients together, then add to the wet mixture.
Add walnuts and mix in evenly.
Spoon into 18 foil baking cups.
Bake at 350 F for 25 to 30 minutes.