Pumpkin Muffins (Gluten-Free and Vegan)
Suzzanna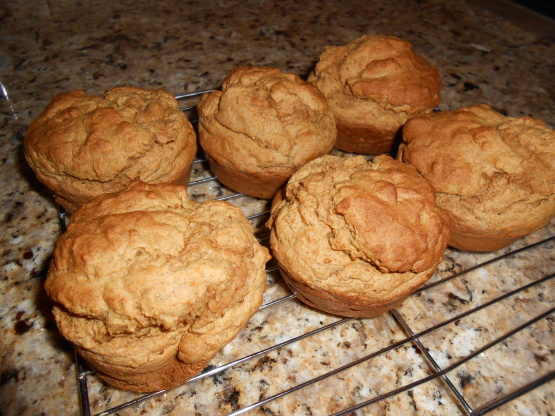 This is adapted from my banana muffin recipe. The muffins are tender and delicious, with no hint that they're GF or vegan! Use fresh or canned pumpkin puree; please not the stuff intended for pumpkin pie. Acceptable egg replacers for this recipe are Ener-G, flax (1 Tbsp. ground flaxseeds + 2 Tbsp. water, microwaved in a bowl until gelatinous), or a real egg, if you're feeling extravagant. Optionally, you can throw in 1/2 c. chocolate chips, dried cranberries, raisins, or walnuts. (The chocolate marries amazingly well with the pumpkin spice flavor--try it, you'll like it!)

These are FANTASTIC! Maybe the best gluten-free recipe I've ever tried. I used a whole egg, 2/3 cup Splenda instead of the sugars, 1-1/3 cup gluten-free baking flour instead of the tapioca starch, rice flour and millet flour, and 1/2 cup applesauce instead of oil. I omitted the pumpkin seeds. I made 6 jumbo muffins that not only looked great, but tasted like regular muffins (not sugar-free, low-fat, and gluten-free). Even with the changes I made, the muffins were AMAZING! The only thing I would change is to add another teaspoon of pumpkin pie spice. I'm going to make this recipe (with my alterations) often.
Preheat oven to 350°F Grease a 12-cup muffin tin or line it with paper muffin cups.
Mix together pumpkin puree, egg, sugars, molasses, vanilla and oil. Stir in flours one at a time, adding the xanthan gum, salt, baking powder, baking soda, and pumpkin pie spice with the millet flour. Stir in any optional ingredients now.
Pour batter into muffin cups, filling them most of the way full. Sprinkle pumpkin seeds on top of each.
Bake 20-25 minutes, or until muffins test done. Remove from oven and allow to cool in pan only a few minutes; remove to a wire rack to finish cooling.