ReeLani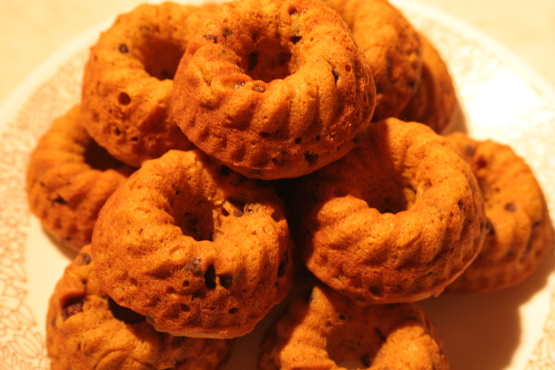 Have not tried this recipe. I'm posting it for a request for someone who needs to use up a small amount of leftover pumpkin. This recipe looks simple quick and easy and uses only 1/2 cup of pumpkin.

Top Review by rickie
Hey 1Steve ~~ made these this morning. Having a recipe for just 1/2 c. pumpkin is great, cause I always seem to have a bit left from various recipes. They are great! I added a dash of cloves.. but think next time I will add a bit more cinnamon. I baked them in Madellin pans, and got 15 little pumpkin 'cakes'. I dusted them with icing sugar and they looked decorative and tasted yummy. :)
Preheat oven to 400ºF.
Sift dry ingredients together.
Beat egg slightly.
Combine egg, milk, pumpkin, and oil.
Add wet ingredients to dry mixture all at once and stir until they are combined.
Batter should be lumpy.
Fold in raisins.
Fill greased muffin cups two-thirds full. Note: Thanks to a recent review by Kasha, please note that this recipe does not work well with paper cups as it may stick to them.
Bake 20 to 25 minutes at 400º degrees.