Pumpkin Melt in Your Mouth Biscuits
Alia55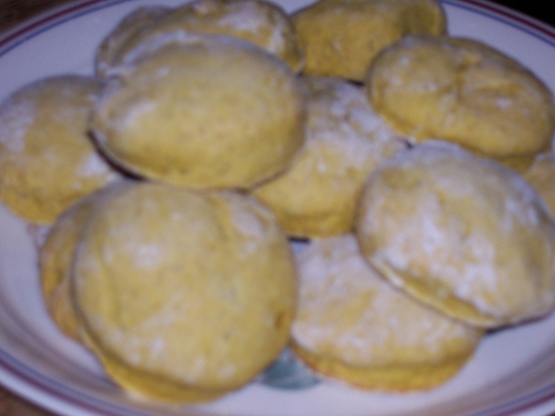 I had extra pumpkin puree that I needed to use upo and in my search for a good way to use it, I came across this. These were very good. Light and fluffy, with a great taste.

These were very yummy. Just the right sweetness and pumpkin flavor combo! I ate like five at just one sitting. :( Mine did begin to burn slightly at the bottom after only about 9 1/2 minutes of baking at 450 degrees F (thankfully I was right there to remove them at the first smell of burn), but I think it's because I didn't grease the pan with much butter. If I make these again (which I probably will ), I think I will try bringing the temp down a few notches and hopefully post the results! My husband and children liked these and it was perfect to have my almost 4-yr-old son help with most of the process. I also didn't realize I would need a rolling pen or biscuit/cookie cutter until I got right to that step, and I didn't have either, but my neighbor lent me her pen and I improvised using the lid of a baby bottle to cut out the biscuits. Worked fine! I just had to use a generous amount of flower while working with the dough; it's pretty moist and sticky. Thanks for the post, The Lord JESUS bless you.
Preheat oven to 450 degrees F.
Sift flour into mixing bowl.
Stir in remaining dry ingredients.
Cut in butter with a pastry blender until mixture is crumbly.
Stir in pumpkin and milk to form a soft dough.
Roll out on floured surface to1/2-inch thickness.
Cut out biscuits with biscuit cutter.
Place on greased baking sheet.
Bake for 15 to 20 minutes.