Pumpkin Marble Cheesecake W/ Chocolate Mousse
Bopp5018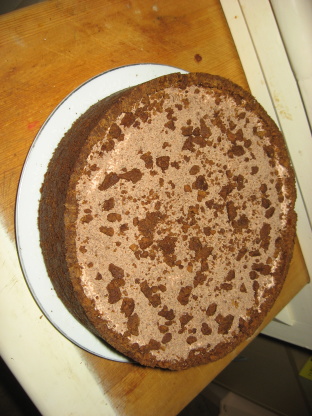 I got this recipe somewhere, off a can, or label or something, years ago. I've made many modifications since then and though I would share. Note: I've written this recipe to make 1 cake, but I usually make 2 cakes whenever I make this, because you end up using a lot of portions of items and with 2 cakes you use up all of what you buy.
Crust:.
Finely chop/grind Gingersnap cookies to create crust from the crumbs. 1 1/2 boxes of cookies will make approximately 4 cups of crumbs.
Slowly add margarine to crumbs, while mixing. Use more margarine as needed to make crust stick to pan.
Press crust mixture onto spring-form pan, all the way up the sides of pan.
Bake crust at 350 degrees Fahrenheit for 10 minutes.
Cake:.
Combine softened cream cheese, 1/2 Cup (only) sugar, vanilla.
Mix at medium speed until smooth/well-blended.
Add eggs, one at a time, mixing well after each addition.
Put aside 1 Cup of this batter and chill in fridge.
Add remaining 1/4 Cup sugar, pumpkin, and spices to remaining batter and mix well.
Chill pumpkin batter in fridge as well (Chilling is not necessary, but it helps maintain the layers in the next step).
Alternately layer pumpkin and cream cheese batters over crust.
Cut through the batters with a knife several times for a marble effect.
Bake pie at 350 degrees Fahrenheit for 55 minutes.
Loosen cake from sides of pan and cool before removing from pan completely.
Topping:.
Mix softened cream cheese and frosting together until well-blended.
Fold in cool whip.
Put topping on cooled cake; it should reach just under the top of the crust.
Shave/grate chocolate bar and add on top of whipped topping for garnish.
Also, if crust is still too tall, even out crust with knife and garnish topping cake with bits of crust as well.
Keep refridgerated until served.