Pumpkin-Maple Bread Pudding
Prep 1 hr 15 mins
Cook 1 hr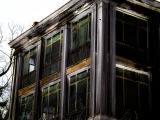 This Comes from Miss Sandra Lee herself. A great cookbook called Semi-Homemade cooking 3. This also works well with molasses.
butter-flavored nonstick cooking spray
1 loaf cinnamon-raisin bread, cut into 1/2 inch cubes
1⁄2 cup chopped pecans
1 1⁄4 cups milk
1⁄2 cup cream
4 eggs
2 teaspoons pumpkin pie spice
1⁄2 cup grade a maple syrup
1 (15 ounce) can pumpkin
1 (4 1/2 ounce) jar brandied hard sauce
1 teaspoon maple extract
Directions
Preheat oven to 350°F.
Lightly spray a 3-quart casserole dish with non-stick spray.
Toss together cubed raisin bread and pecans in casserole dish.
In a large bowl, whisk together remaining ingredients, EXCEPT hard sauce and maple extract. Pour over bread cubes. Let soak for 1 hour, occasionally pressing bread down into custard.
Bake bread in heated oven for 60 minutes or until knife inserted comes out clean.
Remove hard sauce lid and place jar in microwave-safe bowl. Fill bowl with water halfway up the side of the jar. Heat on High in microwave for 30-40 seconds. Remove and stir in maple extract. Drizzle over bread pudding.
Most Helpful
I was very disappointed in the flavor of this recipe. It has all the Fall flavors that I love, but the end result is very bland. I made my own hard sauce using Recipe #116105 Aunt Jeannie's Hard Sauce with rum instead of brandy. I doubt I will ever make this again.
This had great pumpkin flavor, terrific autumn-like comfort food; however, the pumpkin custard mixture was too thick for my preference - the bottom pieces of bread didn't soak up enough of the liquid and were just a touch dry, even after soaking for one hour. I'll probably just add a bit more milk or cream the next time I make it, because there WILL be a next time.