Derf2440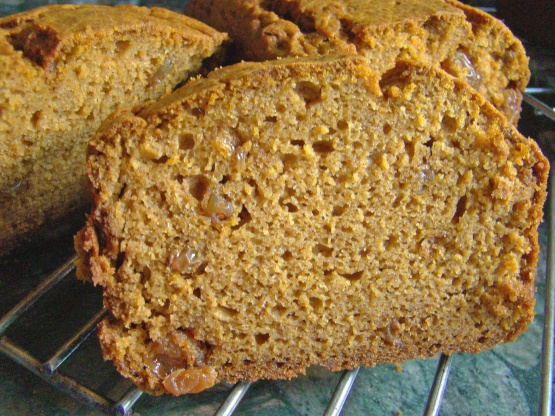 This is a dense, moist loaf that is a great way to use up that extra pumpkin puree when you are tired of pumpkin pie. We love it for breakfast, and my daughter likes to take a slice in her lunch. It makes two loaves. Hope you enjoy!

This recipe is awesome. It's so easy to make and EVERYONE loves it. Thanks so much for sharing!!
Preheat oven to 350 degrees and grease 2 loaf pans.
Mix together well the pumpkin, sugar, oil and eggs.
Add flour, baking powder, baking soda, cinnamon, ginger and raisins, and mix well.
Pour into loaf pans and bake for 60-65 minutes or until inserted knife comes out clean.