Pumpkin Ginger Pancakes With Ginger Butter
lazyme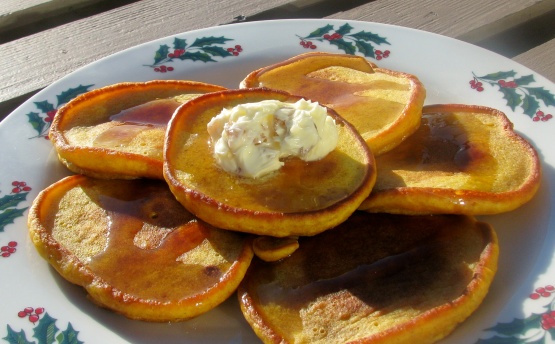 From Sunset Magazine , these are nice for a change of pace on Saturday mornings. 45 minutes combined prep and cook time.

OMG, these are to die for and so easy to make. The only thing I did differant was cut it in half for the 2 of us (still used 1 egg) and it was perfect. The flavors just cried out for the holidays and the ginger butter sent it right over the top. Served with warm maple syrup and hot coffee, and made for the perfect breakfast for this cool November morning.
Combine flour, brown sugar, soda, cinnamon, powdered ginger, nutmeg and salt in a large mixing bowl.
In a separate bowl, combine egg, milk pumpkin, yogurt and butter until well blended.
Add wet to dry, stirring just until evenly moistened.
Cook on nonstick griddle over medium heat until edges look dry – about 2 to 3 minutes per side.
Serve with ginger butter and real maple syrup.
To make the ginger butter, simply cream the chopped candied ginger into the butter, then chill before serving.