Pumpkin Flan With Caramel and Cinnamon Whipped Cream
Brenda.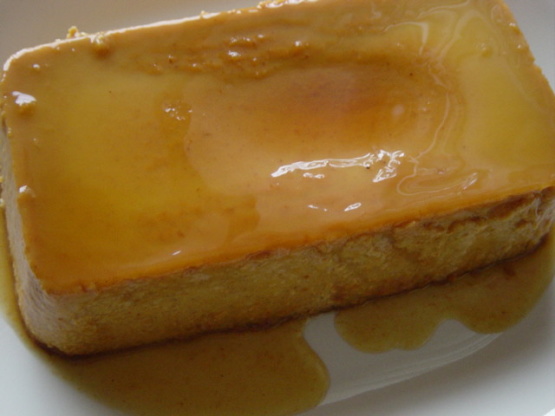 I made this as one of our Christmas desserts. The family really liked this, rating it either a 4 or a 5. Those that rated it a 4 stated they prefer a denser, firmer flan. This flan was very light and smooth. I actually preferred it this way. If I was to go on taste alone I would have went 5, but I did have some problems with the directions. The first problem was creating the caramel sugar. I took much care to follow the directions carefully. The end result was a huge crystallized mass which never browned. I have made flan in the past so I went to method I was familiar with, which is melting the sugar with just a small amount of water (about a tsp)over a medium high heat stirring constantly so the sugar does not burn. It will quickly melt to a caramel liquid and added this to the loaf pan. The second problem was that it took 2 hours to bake. I had set the pan with hot water in the oven and preheated for over 30 min. Maybe I should have started with boiling water? I also tested the temperature of my oven and it is running correct. I think next time I will make this in 9x9" or 2 qt casserole, as it did come out almost 3" tall and this may have been one reason it took so long. Although i did have these problems I was able to overcome them and would definitely make this again.
In a small skillet combine 2/3 cup of the sugar with 1/4 cup water and bring the mixture to a boil, stirring and washing down any sugar crystals clinging to the sides with a brush dipped in cold water until the sugar is dissolved. Cook the syrup, swirling the skillet, until it is a deep caramel, pour it into a warm 2-quart glass loaf pan, tilting the pan to coat the bottom evenly, and let the caramel harden.
In a bowl beat the eggs with the remaining 2/3 cup sugar, beat in the pumpkin puree, salt, ginger, cinnamon, allspice, and cream, and pour the custard into the loaf pan. Set the loaf pan in a deep baking pan, add enough hot water to the baking pan to reach halfway up the sides of the loaf pan, and bake the flan in the middle of a preheated moderate oven (350 degrees) for 1 hour and forty five minutes to 2 hours, or until a knife inserted in the center comes out clean. Let the flan cool and chill it, covered overnight. Run a thin knife around the edge of the loaf pan, invert a platter over the pan, and invert the flan onto the platter. Serve the flan, cut into slices, with the cinnamon whipped cream.