Prep 15 mins
Cook 45 mins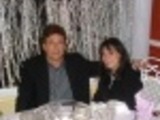 Nothing says fall quite like desserts enriched with the sweet, spicy, incomparable taste of this premier squash. Good Food Magazine, October 1986. Prep time does not include chilling time.
Directions
Heat oven to 325 degrees.
Pour half-and-half and cream into medium saucepan and heat just until scalded (tiny bubbles will form around edge of pan).
Mix liqueur, ginger, and salt in small bowl. Lightly whisk eggs together in separate mixing bowl. Add liqueur mixture and whisk to blend. Very gradually stir in scalded cream. Stir in sugar, pumpkin, and lemon zest.
Pour custard into six 3/4-cup custard cups or ramekins and place in baking pan. Pour enough hot water into pan to come halfway up sides of cups. Cover with cookie sheet. Bake until knife inserted in center comes out clean, 40-45 minutes.
Transfer custard cups to wire rack to cool completely. Cover with plastic wrap and refrigerate at least 2 hours. Serve cold.
Reviews
Most Helpful
Made for PRMR! This had a great pumpkin taste. My wife loves pumpkin and she loved this. Thanks
I reduced this to just 2 servings. I put a splash of pumpkin spice on top before baking, but otherwise made as directed. The flavor is really good, but the texture was curdly (is that a word)? There was also a lot of liquid at the bottom of the ramekins. I think the condensation on the bottom of the baking sheet (from the waterbath) makes the droplets seep into the ramekins and get into the custard. Overall we loved the flavor, just need to work on the cooking method.