-Sylvie-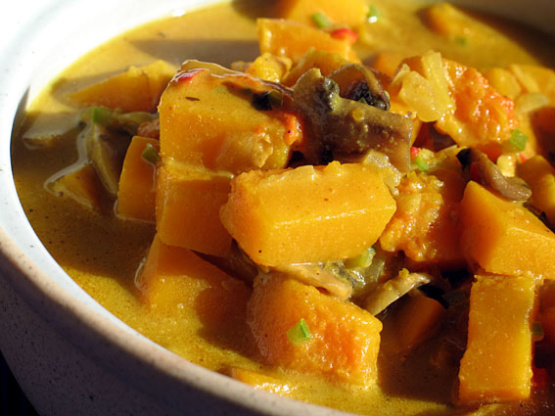 I love this vegetarian curry. It's colourful, cheap and filling.

Hey Sackville Girl!! We had this dish with your Dal recipe # 52325. What a wonderful meal we had. I must say that the sauce was so yummy and the coconut milk thickened it up nicely. I followed your recipe to the letter. My daughter who loves curries but as long as they aren't to hot, just adored this one. We decided to keep this recipe as a regular on our weekly menus. We have a pumpkin vine growing in our back yard so you can be assured that we will be using this recipe alot once the pumpkins start to ripen. If you have any more lovely recipes like this one hanging around please post them. :-) cheers Chris
Mix the chillis, garlic, ginger, spices, water and coconut milk on a bowl.
Get a large frying pan and heat a bit of butter in it.
Put the pumpkin cubes, mushrooms and onions into the pan and sauté for a few minutes until the onions start to soften.
Then add the coconut mixture then bring the boil then reduce heat and simmer until the pumpkin is tender but not overcooked.
Depending on how large your cubes of pumpkin are, you may need to add more water, 1/2 cup at a time, to keep the pan from getting too dry.
When the pumpkin is cooked and the sauce is thick, take off the heat and let sit for two minutes.
Add a bit of salt, if desired.
Serve over plain white rice accompanied with pappadums and lime pickle.
You may also like a handful of raisins in the curry, or on the side to help counterbalance the heat!