Pumpkin Cupcakes With Cream Cheese Frosting
aconomon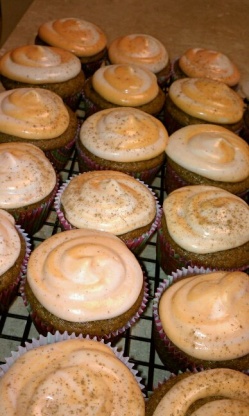 These are so good and so pumpkiny. Perfect during the fall months!

I was told from my daughters boyfriend this was the best cupcake he has ever had! I did find that the icing recipe could be cut in half. As someone who loves pumpkin anything this is a great recipe. My husband also loved these cupcakes and normally doesn't like pumpkin treats because they often have to much spice used in them. All around sucess in my household!
Beat eggs at medium speed with an electric blender until blended. Add sugar, flour, baking soda, baking powder, nutmeg, pumpkin, oil and milk. Stir in pecans and dates if desired.
Place paper baking cups in muffin pans, and lightly coat with cooking spray. Spoon batter into cups, filling them ¾ full.
Bake at 350°F for 20 to 25 minutes or until a wooden toothpick inserted into the center of a cupcake comes out clean. Remove the cupcakes from the pan and cool completely on a wire rack.
Blend softened cheese and butter in mixer. Add sugar and vanilla. Beat in enough milk or cream to reach desired consistency. Frost each cooled muffin with a bit of frosting before serving.