Calee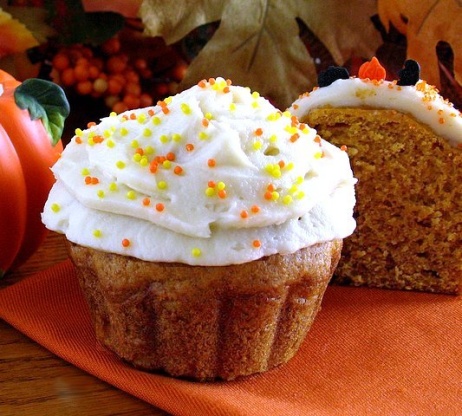 Pumpkin cupcakes with cream cheese icing

Absolutely AMAZING! I bought a can of pumpkin when it finally came in stock, and have been waiting for a worthy recipe to use it on. I opted to make pumpkin muffins, so I didn't use the frosting; otherwise, I followed the recipe to the tee. These guys are so moist! I was able to make 12 muffins and 3 mini muffins. I added toasted walnuts to some of the batch, which was a great idea. I plan on making these again this week with the walnuts. Also, I watched mine and ceased baking at 15 minutes, so be sure to keep an eye on yours!
In large bowl, sift and whisk flour,sugar, pumpkin pie spice, baking powder, baking soda and salt. Set a side.
In separate bowl, whisk eggs, blend in pumpkin, buttermilk and oil.
Pour over dry ingredients stir until just moistened.
Spoon into large paper-lined muffins cups or spray with Pam. Filling to top.
Bake at 375 oven 18-22 minutes or until cake tester inserted in centre comes out clean.
Let cool on rack.
Icing:.
In bowl, beat cream cheese, butter and vanilla, beat in sugar until smooth. Spread on cupcakes. Decorate with sprinkles or a butterscotch chip on top.
Varitation to this is to add a handful of butterscotch baking chips into the mix just before baking.