Parsley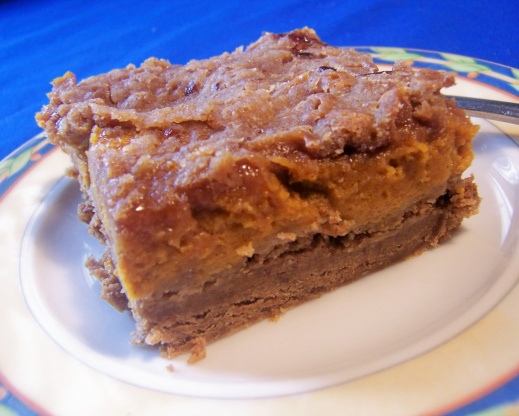 For a wonderful Fall treat or anytime of the year, this pumpkin crisp dessert is sure to please.

I had hoped that it would have more of a "crumble" crisp top, like on traditional apple crisp. We broiled it for a few minutes after baking it to make the top crispier, but I think next time I would add some oats and spices and more stuff to the topping.
Open Cake mix, remove 1 cup of the dry cake mix and set aside to be used later.
Combine remaining cake mix, 1 egg and 1/2 cup melted margarine.
Pat into a 9 x 13" baking pan to form a crust.
In a Large bowl, mix pumpkin, 2 eggs, spices, 1/2 cup sugar and milk.
Pour over cake mix crust.
In a small bowl, combine remaining 1 cup of cake mix, 3/4 cup sugar and 1/2 cup melted margarine; mix until crumbly.
Sprinkle on top of pumpkin mixture.
Bake 350 degrees for 55 minutes.