Calee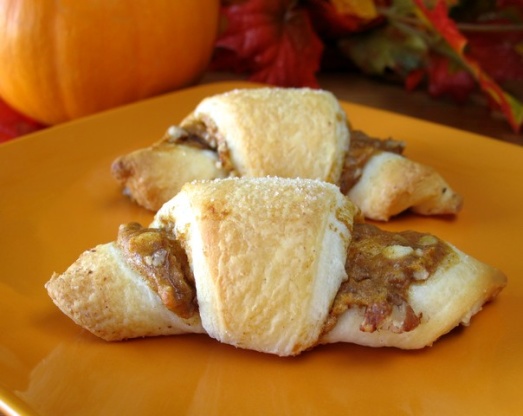 A unique pumpkin recipe ideal for breakfast, brunch or simply an autumn afternoon treat served with steaming mugs of spiced apple cider. Recipe courtesy of a CooksRecipes e-mail I received.

Top Review by Nikoma
If you love pumpkin pie then these are sure to please. Made for breakfast last week. I hold off on 5 stars because after 18 minutes of baking they were still moist on the bottom. I'm not sure if I should turn the heat up next time or just cook longer. I'll be experimenting though. Thanks!
Preheat oven to 375°F
In large bowl, blend cream cheese, pumpkin, EAGLE BRAND®, flour and spices until combined and smooth.
Unroll crescent rolls; separate and lay flat. Evenly spread 1½ tablespoons of pumpkin mixture over the uncooked dough. Sprinkle 1 teaspoon chopped nuts over the pumpkin layer, then roll into crescent shape.
Sprinkle top of rolls with sugar. Bake 11 to 13 minutes or until slightly golden brown.
Store leftovers covered at room temperature.