Pumpkin Cranberry Cookies
flower7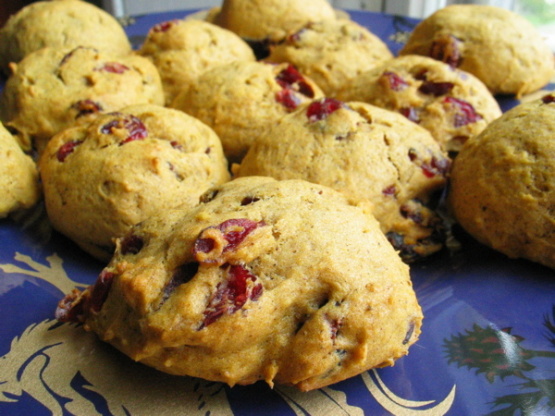 From a "clip-out" recipe that I found many years ago. The original recipe calls for raisins but I like using dried cranberries. These have a nice soft texture.

Such a tasty, cake-like cookie. They're not sweet enough for my sugar addicted children, so I drizzled them with a powdered sugar/butter/lemon juice glaze. Evenso, they still taste healthy!
Preheat oven to 375°F.
Cream together the butter and the sugars.
Beat in the egg, pumpkin and vanilla.
Mix dry ingredients together and then add to the wet ingredients and blend well.
Stir in dried cranberries.
Drop batter by rounded tablespoons onto a greased cookie sheet.
Bake for 15-20 minutes or until golden brown.