Pumpkin Cranberry Bread Loaf
mikey ev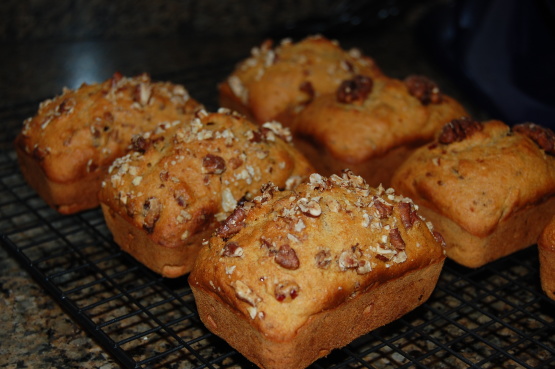 adapted from Cooking Light. Yummy Fall treat! I made these in mini loaf pans and baked for about 33 minutes. I got 8 perfect mini loaves. (Update: I froze some of these after baking. Then just thawed them out and they were GREAT even 2 months later!)

This was a delicious addition to a my Thanksgiving meal and will become a new family traditional recipe. Everyone loved it !! To make it a little more healthy I substituted 1 cup of the flour for whole wheat and it didnt make a difference in the texture at all.
Preheat oven to 350°F.
Combine the first 6 ingredients in a large bowl; make a well in center of mixture.
Combine pumpkin, water, oil, vanilla, and egg whites; add to dry ingredients, stirring just until dry ingredients are moistened.
Fold in cranberries.
Pour batter into a 9 x 5-inch loaf pan coated with cooking spray; sprinkle pecans over batter.
Bake at 350° for 1 hour and 5 minutes or until a wooden pick inserted in center comes out clean.
Let cool in pan 10 minutes on a wire rack; remove from pan, and let cool completely on wire rack.