Whisper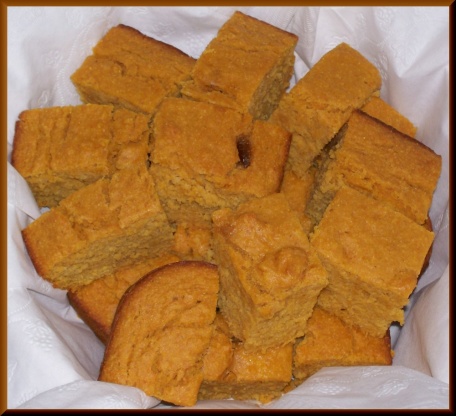 What could be more Thanksgiving than pumpkin and cornbread? I make this for every Thanksgiving meal (and other times as well), and everyone loves it. It has only a very subtle pumpkin flavor. I have thought about adding more pumpkin for a stronger flavor, but we love it too much the way it is! Reheat leftovers in the microwave and serve with pumpkin butter and tea or coffee. This doesn't last long in my house!

This was very good. I made two batches and used one in my cornbread stuffing and it was a hit!
Sift together flour, baking powder, salt and coriander in a large mixing bowl; stir in cornmeal.
In a separate bowl, combine brown sugar, honey, melted butter, eggs, pumpkin and buttermilk.
Gradually stir into the dry mixture until all ingredients are blended; do not overmix.
Pour batter into a square 8-inch baking pan and bake in 350 degree oven 40-45 minutes.