Nannydeb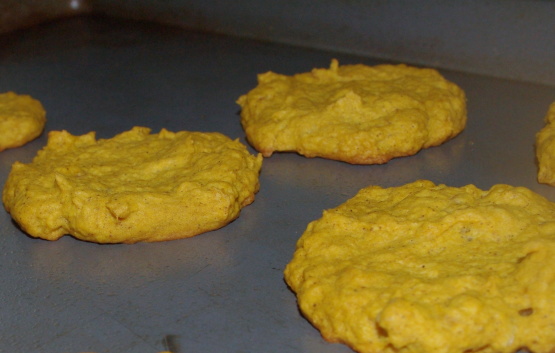 This recipe has been a real hit at office food days. The cookies are moist and irresistible.

These are the best pumpkin cookies I've ever had! I added the chocolate chips, and substituted 1/4 cup applesauce and 1/4 cup butter for half of the shortening, and they were still light, fluffy, and delicious. I may even try 1/2 cup applesauce with 1/2 cup shortening next time.
Cream sugar and shortening.
Add egg and pumpkin and beat well.
Add dry ingredients and nuts, chocolate chips and or dates.
Mix thoroughly.
Drop by rounded teaspoon on greased cookie sheet.
Bake in 350-degree oven for 10 to 15 minutes.