mybenz92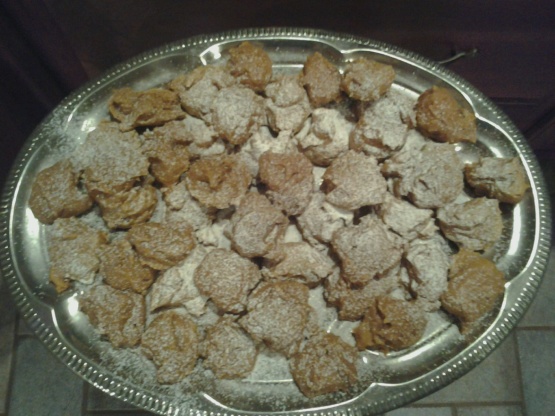 I first tried these at work. A coworker of mine brought a ziplock bag full and I think I ate half to myself, lol. Sooooooooo of course I had to ask him for the recipe which he got from his dear Mom. They are so addictive, I have to freeze some when I make them or I will eat them all. They are just as tasty with or without nuts and raisins.

Both the flavor and texture of these cookies is marvelous. The recipe sounded great and I wanted to try it but I needed to make it a bit more diabetic friendly. Here's what I did: Replaced 1 cup of the flour with coarse ground whole wheat, used a Smart Balance type margarine, used 1 whole egg and 1/4 cup egg white, 1/4 cup Splenda brown blend and 1/2 a cup of Splenda granular for the sugar. That was it for the diabetic changes. Some of the walnuts I minced so fine that they were nearing ground and some I left in bigger pieces to add some crunch. I need to tell you that they are addicting! You really keep wanting to pick up another and another. Thanks Pink for sharing this great recipe. Made for Photo Tag.
Whip butter.
Add sugar, eggs, pumpkin puree, vanilla.
Add flour, baking powder, ginger, nutmeg, cinnamon, salt.
Mix together.
Add raisins or walnuts or dates (whichever you prefer).
Refrigerate for 30 minutes.
Drop by tbsp on cookie sheet - I sprayed mine with Pam.
Cook at 375 for 10 to 12 minutes - makes approximately 3 dozens.