loof751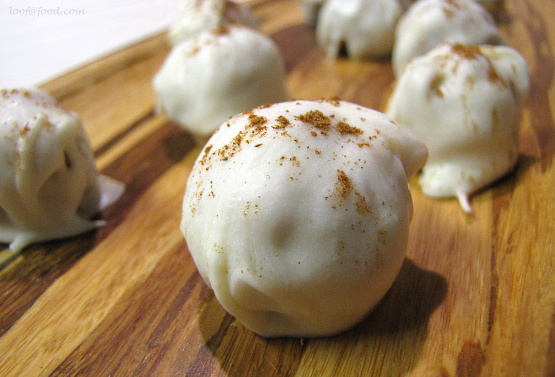 This is an autumnal version of the ever so popular oreo truffle. It is spicy, pumpkiny and just super yummy. I hope youll like it!

Top Review by tarab5
I decided to make these with the extra pumpkin that I had; it was a nice change from a chocolate type of truffle, but just not my cup of tea. It really tastes like pumpkin pie filling in a white chocolate shell. I refrigerated my pumpkin balls overnight before dipping them. Be careful of working with white chocolate; it's more fussy than regular chocolate. It's important to melt it slowly and take it off the burner once it's melted. If you apply too much heat, the chocolate will seize up on you (start to clump). Should that happen, you may be able to save it by adding some butter, a tsp at a time. Pouring cold milk on it will make the situation worse!
In a food processor powderise the cookie crumbs and bran flakes into fine meal.
Transfer to a big bowl. Add remaining ingredients EXCEPT for the white chocolate for coating and the pumpkin pie spice.
Using your hands mix well and roll into small balls.
Dip the balls into the melted white chocolate (a fork or toothpick works well) and set onto a paper-lined baking sheet to dry.
Dust with pumpkin pie spice while chocolate is still wet.
You may cool these in the fridge to shorten the process, but they will set nicely at room temp, too.
Enjoy.