Pumpkin Chocolate Covered Raisin Muffins
flower7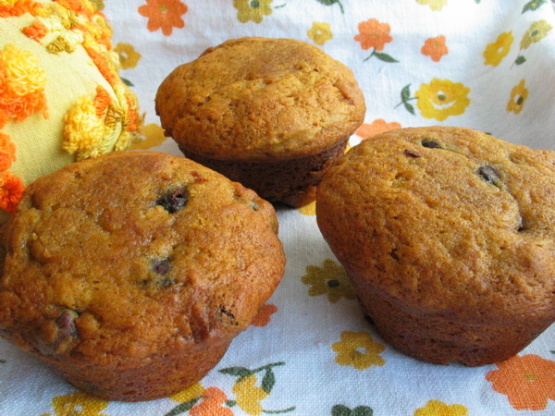 Sounds like a mouthful and it IS a mouthful. A delicious mouthful that is.

I originally saw this recipe on Peabody's website but came here looking for it because I wanted to reduce the amount of muffins it made. I have to say, wow! I couldn't believe how good these are. I would recommend anyone to try it. 5 stars!
Preheat oven to 350°F
In a large bowl, mix the flour, sugars, spices, baking soda, baking powder and salt.
In another bowl, mix together the eggs, pumpkin, and unsalted butter. .
Combine the wet and dry ingredients and mix until the dry ingredients are moistened. Do not over mix. Fold in the chocolate covered raisins.
Scoop batter into greased or paper cup lined muffin cups. Bake for about 20- 22 minutes or until puffed and springy to the touch. Cool then remove from cups.