Pumpkin Chocolate Chip Cookies
Maineiac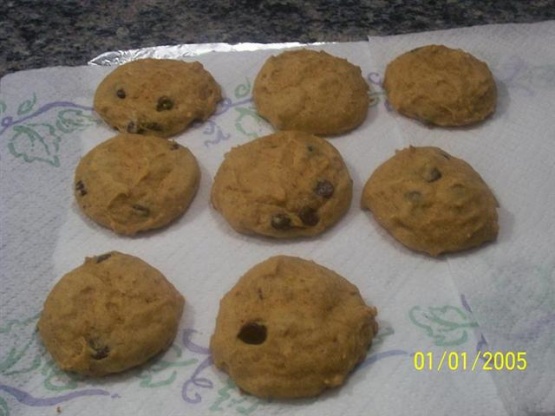 A great pumpkin cookie--and easy to make. Great snack for the kids. Enjoy.

This was a really good cookie. After reading the last review I was actually expecting a cake like cookie, but it wasnt that at all, which is fine. My door is open to all kinds of cookies. ;) I followed it to a T, and was a little suprised because I am a pumpkin feind, but couldnt taste the pumpkin in it, but, of course, my hubby totally could! LOL No matter, we LOVED the cookie, and I will be making these again.
Preheat oven to 350°F.
Grease a cookie sheet.
Sift together flour, baking powder, baking soda, cinnamon, nutmeg and salt; set aside.
Beat sugar, vegetable oil, eggs and vanilla together.
Add pumpkin and the dry ingredients alternately to the mixture.
Fold in chocolate chips.
Drop by teaspoonfuls onto cookie sheet.
Bake 10 minutes or until edges are set.