Pumpkin Chocolate Chip Cookies
Hadice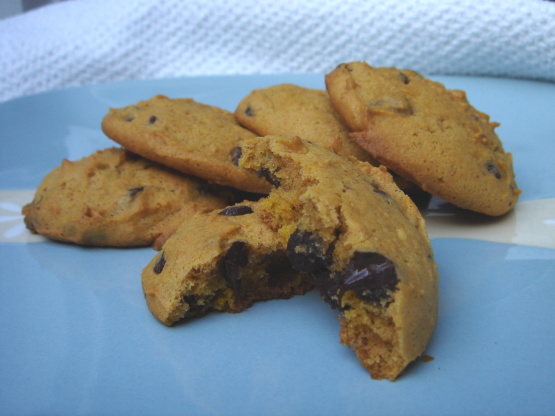 These are different for after school snack or desserts in October. Recipe source: Bon Appetit (November 1986)

they are best fresh - even a half of a day later they loose any of that baked crunchy outside and become uniformly soft. but, when you have that in mind, they are delicious. i can taste the pumpkin. i might alter it to have more spices.
Preheat oven to 350-degrees F.
Grease baking sheets with margarine or spray with Pam.
In a large mixing bowl cream 1/2 cup butterwith sugar until fluffy. Stir in pumpkin, egg and vanilla.
Sift dry ingredients together (flour - salt) in a bowl.
Add dry ingredients to butter mixture, stirring well to combine.
Stir in chocolate chips and nuts or raisins (if desired).
Drop batter by spoonfuls on to baking sheets.
Bake for 12-15 minutes or until browned.
Cool on rack.