Pumpkin Chocolate Chip Bread
jbethke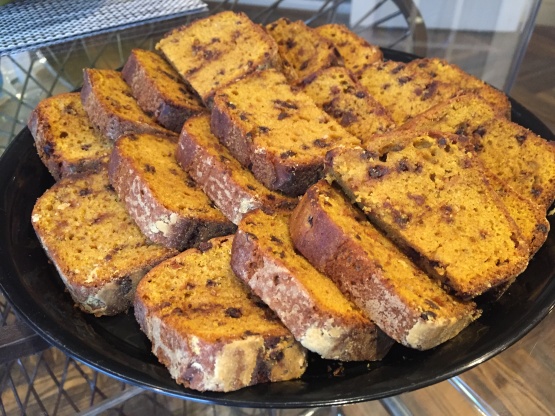 A Fall favorite! This recipe is loved by all and is great for family, friends, teachers, work -- even as gifts. Serve alone or warm with a scoop of vanilla ice cream for a delicious dessert. Can substitute chocolate chips with raisins, dried cranberries or walnuts (or experiment with a combination). But chocolate chips are my family's favorite! NOTE: Coconut oil can also be substituted for vegetable oil. Gives it a different flavor, but still delish!
Preheat oven to 350 degrees F (175 degrees C).
Grease and flour a 9x5 inch loaf pan.
In a large bowl, mix together pumpkin, oil, sugar and eggs.
In a separate bowl, combine the flour, baking powder, baking soda, cinnamon, nutmeg, cloves and salt.
Stir flour mixture into pumpkin mixture until well blended.
Add mini chocolate chips and gently stir until blended.
Pour batter into prepared pan.
Bake in preheated oven for 1 hour to 1 hour, 15 minutes. Be sure there is enough space for the bread to rise some. When done, the top of the loaf should spring back when lightly pressed.